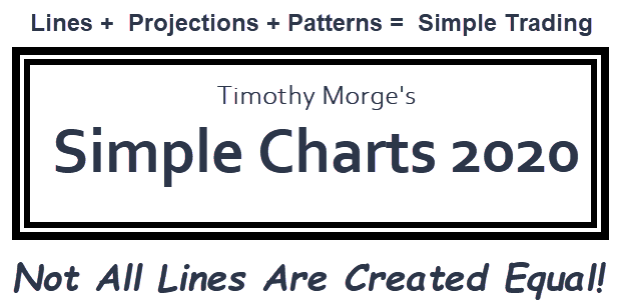 This is the method of trading I learned when I first started trading, and it remains my favorite today. It uses simple lines, a few simple mathematical projections borrowed from the early Greeks, and simple, repeatable patterns to produce consistent profits. You can apply this method to daily, weekly and monthly charts. The advantages to trading using this method is you can trade in your spare time and it does not take all day staring at updating bars on a chart. You do not need expensive charting programs, and costly data feeds. Once you learn this method, you spend a lot less time and money on trading. And the best part? I think it's much easier to be profitable using this simple method! Look at recent results:
Trading Results for 2019
Total Trades: 9           Winners: 9        Losers: 0           Average Risk/Reward:  5.0
Beginning Account Balance: $100,000 Portfolio Gains: $158,401 2019 Ending Balance: $258,401
Trading Results for 2020
Position sizing adjusted to reflect net results of prior year
Total Trades: 2            Winners: 0        Losers: 0           Average Risk/Reward:  5.9
Beginning Account Balance: $258,401 Portfolio Gains:  $180,075 2020 YTD Balance: $338,476
I had 11 winners and no losers in this program's first 12 months of trading – I don't expect the winning percentage to be anywhere near 100 percent. I would be happy with a winning percentage of 50 percent; With a Risk-Reward of 3.0, 10 trades with a winning percentage of 50 percent would net $66,883, using the actual average winners and losers from the program's 2019 trading results.[1]
Here's how you can take advantage of the valid trade signals from Simple Charts 2020
If you just want to see the current signals and view the YTD results, you can always see these on the MarketGeometry.com blog or Timothymorge.com blog, with no strings attached, no cookies.
If you'd like us to email you the latest valid signals and any time the open orders change, sign up for a membership at: marketgeometry.com. You will also receive the latest charting examples from Simple Charts published by me.
If you would like to learn all about the techniques I use in Simple Charts, go to MarketGeometry.com and sign up for the live sessions. I am currently allowing all the members to watch over my shoulder as I chart for about an hour, for my pleasure. It is a rare look into what I do in my trading room when I prepare for my long-term trading.
I also teach the fundamentals of my intraday proprietary trading techniques in my Market Maps classes. My advanced students learn the ins and outs of my cutting-edge trading techniques, including context, strategies, and tactics in the Breakfast sessions. You can view the descriptions for all these programs at MarketGeometry.com  or email me at timothymorge@MarketGeometry.com.
You don't have to spend a lot of money on charting programs or data feeds; you don't have to spend 6-8 hours each day in front of a computer screen, and you don't have to learn about complicated indicators or algorithms – Try Simple Charts instead.
[1] The information provided by the newsletters, trading, training and educational products related to various markets offered by Market Geometry is not customized or personalized to any particular risk profile or tolerance. Nor is the information published by Market Geometry a customized or personalized recommendation to buy, sell, hold, or invest in particular financial products. Past performance is not necessarily indicative of future results. Trading and investing involve substantial risk and is not appropriate for everyone. The actual profit results presented here may vary with the actual profit results presented in other Market Geometry publications due to the different strategies and time frames presented in other publications. Trading on margin carries a high level of risk and may not be suitable for all investors. Market Geometry does not make any guarantee or other promise as to any results that may be obtained from using its services. Market Geometry disclaims any and all liability for any investment or trading loss sustained by a subscriber. You should trade or invest only "risk capital" – money you can afford to lose. Trading commodities, futures, stocks and options on any instrument involves high risk and you can lose the entire principal amount invested or more. There is no guarantee that systems, indicators, or trading signals will result in profits or that they will not produce losses.